In Portland, Oregon, Freyssinet recently completed work on the Tilikum Crossing Transit Bridge (TCTB), a cable-stayed bridge located at the heart of the city and designed to accommodate pedestrian, cyclist, bus and tramway traffic.
Freyssinet supplied the materials and equipment for installing the stay cables, and provided technical assistance. Crews were at the site from March 2013 to July 2014.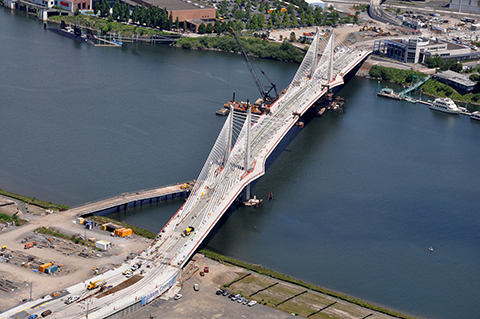 ©Kiewit Infrastructure West Co.

The structure is a cable-stayed bridge with multi-tube saddles running from unit 31 to unit 109, and is the project the greatest number of multi-tube saddles to date. It's also the first project for which the extrusion part of the coherent strand (Cohestrand®) has been produced by Freyssinet, Inc. (USA), with a world record in terms of length: 373 km of Cohestrand® installed, weighing 500 T.