Concrete Restoration

Freyssinet, Inc. offers a full range of concrete repairs and maintenance techniques providing clients with a "one stop" contracting service for all their concrete repairs requirements. Freyssinet, Inc. assures clients of impartial advice with regard to repair material selection from the widest range of sources. We have a large in-house design department, and directly employ a highly trained, well motivated, experienced, and safety conscious workforce.

Assessment
Accurate identification of the type, severity and extent of problems affecting a structure are crucial in determining the underlying causes, and in developing effective and economic concrete repairs solutions. Freyssinet offers a comprehensive range of testing and reporting to allow clients to identify an appropriate repair strategy.
Concrete Replacement
Where concrete is in poor condition, or strengthening is required, replacement is often the only viable option. Freyssinet offer removal both by conventional breaking and hydrodemolition, with subsequent replacement using high performance repair concretes and mortars.
Concrete Repair
A wide range of techniques are available for repairing spalled, cracked, damaged, and honeycombed concrete including: modified mortars for patch and thin bond repairs; pressure and vacuum injection using epoxy, polyester, and cementitious grouts; and sprayed concrete.
Complementary Services
Freyssinet, Inc. undertakes concrete repairs as part of a wider range of complementary services that includes: cathodic protection and chloride removal, strengthening, parapet replacement, deck refurbishment, bearing replacement, jacking and sliding, plate bonding and carbon fibre bonding, retrofit steelwork installation, slab joint replacement, and external post tensioning.
High strength bars (Freyssibar bars) are often used to introduce pre-stress into existing areas with high stress concentrations or subject to bursting forces. This could include column heads, bridge deck diaphragms, and anchorage regions. High strength bars can provide a useful increase in load carrying capacity or act as a remedial solution for existing over-stressed sections. High strength bars may also be used as an alternative to plate bonding. Plate bonding Suitable for under-strength beams and floor slabs. Steel plates of calculated length and cross section are bolted and / or glued using epoxy adhesive to the tension zone of the structural element. The increased depth composite section enhances load carrying capacity.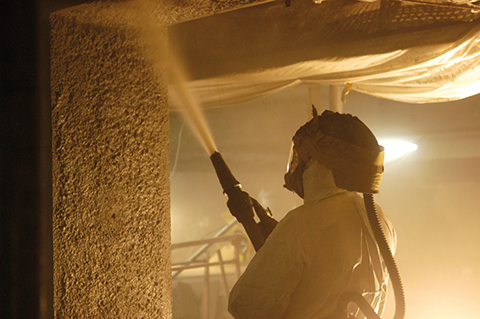 Shotcrete
Areas of Application:
Repair