Shotcrete Dry and Wet Method

Shotcrete application consists of spraying wet or dry mix materials through a hose using compressed air at a high velocity.
Our specialized personnel and certified nozzlemen (American Shotcrete Association), allow Freyssinet, Inc. to provide owners and engineers with a quality, fast and flexible operation to meet demanding schedules.
Concrete Structures that have had fires, explosions, deterioration or changes to their structural function are candidates for shotcrete application.
Examples:
Bridge Columns and Pier Caps
Culvert Pie Lining
Dams
Building Beams and Columns
Tunnels
Foundations
Silos
Pools
Advantages of Shotcrete Application:
Fast and Economical
Requires little or no formwork
Well suited for irregular shaped surfaces
Can be applied in tight or confined spaces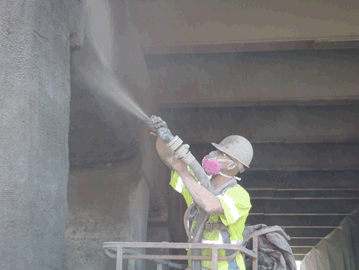 Shotcrete - VDOT 11 Bridges - Richmond, VA


Areas of Application:
Repair