Structural Accessories

Freyssinet manufactures and supplies a wide range of accessories (bearings, expansion joints, etc.) and earthquake protection devices that comply with the most stringent standards.

The main structural accessories offered by Freyssinet, Inc. are:
Bearings, which transfer major vertical loads, such as between a deck and its piers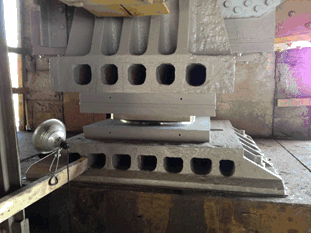 Two Howard Street Arch Bridge Bearing Replacement - Baltimore, MD
Expansion Joints, which ensure a continuous road surface, such as between a main deck and its end spans,
CIPEC expansion joints are designed to enable continuous traffic between two structures, accommodating structural movements due to creep, shrinkage effects, temperature variations and deformations under live load. They are suitable for all reinforced concrete, prestressed concrete, composite and steel structures, and particularly for bridge decks. CIPEC expansion joints are also designed to allow sufficient vertical movement so that bearings can be replaced without needing to disassemble the expansion joint. They enable drainage of runoff water and they are designed to minimize traffic noise.
The current family of Freyssinet's expansion joints has been in use for more than 30 years and has the following to offer:

Excellent traffic control
Long life
Low noise
High corrosion resistance
No horizontal reaction
Protection of surface under joints
Good resistance to heavy duty & frequent traffic loads
Adaptability to all types of surface structure
Easy installation
Low servicing and maintenance
Easy and quick replacement (without damaging the existing structure)
All joints come with optional accessories to ensure water-tightness and effectiveness over footpaths, such as pavement joints, end section upstands and drains.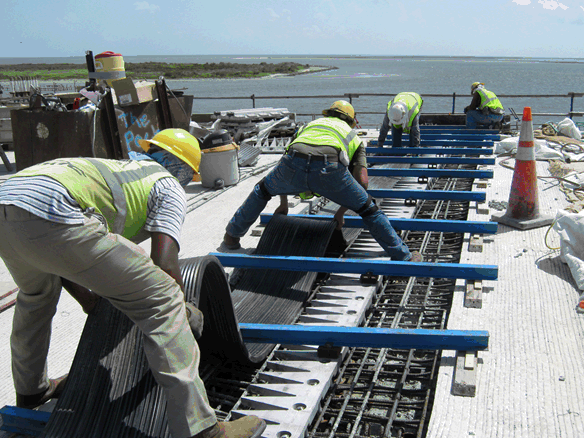 Caminada Bay Bridge - Jefferson Parish, LA
Freyssinet, Inc. offers an extensive range of small and large-movement for road and railway structures:
Viajoint Bituminous Expansion Joint
CIPEC Metal Expansion Joints
Elastomeric Expansion Joints
Modular Expansion Joints
TRANSPEC 4-18 Joints for Rail-Based Crash Barriers
Railway Expansion Joints

Flat Jacks, which are used to induce movement and.or apply high forces in a restricted space.
The Freyssinet flat jack is a thin, hydraulic device, capable of developing considerable forces in a simple and economic manner.
Initially designed by Eugene Freyssinet as a way of prestressing concrete, to be used under specific circumstances, flat jacks were used for numerous applications, in particular to apply or transmit forces while counterbalancing the relevant strains.
The Freyssinet flat jack is a malleable steel capsule made up of two steel-welded together, the connection being in the shape of a cylindral or toric rim. Two adjutages tubes, one of which serves as a vent, allow fluid to be injected under pressure which pushes aside the two faces of the jack while the strain incurred modifies the shape of the rim.

Washington Aqueduct 3rd High Main - Washington, DC
Barrier Cables, which are used mainly in parking garages to replace some of the other options barrier systems available such as pre-cast or cast-in-place walls, galvanized pipe, turnbuckles, ... The barrier cable system seems to be enjoying popularity due to its advantages. It is economical due to its high strength to weight ratio and efficient to resists vehicle impact in the tensile rather than the bending mode.
Earthquake Protection Devices, which reduce the transmission of inertial forces, such as between a deck and its piers during a seismic event.
These solutions offer numerous benefits, particularly with regard to installation and durability.



Areas of Application:
New Structures